RENCONTRE # 3 : Paroles de Musiciens
RENCONTRE # 3 : Paroles de Musiciens
Dans les conditions extrêmes que nous vivons les uns et les autres, dans cette vie bouleversée que nous affrontons, nous recherchons à partager nos ressentis et à écouter les avis des autres.

Dans cette optique et pour que le public retrouve le chemin des galeries, théâtres, musées et autres lieux de culture et que les artistes échangent avec le public, l'Agenda Culturel, organise les « Rencontres post 4 août » sur différents secteurs de la vie culturelle. Des artistes partageront leurs sentiments et l'impact de cette situation inédite sur leur destin en tant qu'artiste.

Modératrice : Zeina Saleh Kayali
Les artistes participants : Walid Moussallem, Omar Rahbany, Yasmina Sabbah et Fadia Tomb El-Hage
Rendez-vous le jeudi 29 octobre à 17h30, USJ, Amphithéâtre Pierre Y. Abou Khater
Langues : Arabe et Français
Masque sanitaire requis
Info : web@agendaculturel.com


L'Union Européenne promeut les arts, la culture et la créativité.
Les « Rencontres post 4 août » sont rendues possible grâce au soutien financier de l'Union Européenne.
Zeina Saleh Kayali se consacre depuis de nombreuses années à la promotion et à la diffusion du patrimoine musical libanais par plusieurs moyens : L'écriture d'ouvrages (dix publiés à ce jour). Elle a fondé et dirige la collection Figures musicales du Liban aux éditions Geuthner (Paris). L'organisation de concerts. Après un cycle de musiques libanaises à l'UNESCO à Paris et un partenariat avec le Conservatoire national du Liban pour promouvoir les compositeurs libanais, elle est la co-fondatrice des Musicales du Liban, premier festival, en France, exclusivement consacré à la musique savante libanaise. Le Centre du patrimoine musical libanais (CPML). Elle est la co-fondatrice du CPML situé au Collège Notre-Dame de Jamhour, centre qui rassemble conserve et valorise les archives et la documentation des compositeurs et des interprètes libanais. Les conférences. Elle a mis au point une série de conférences musicales données en France et au Liban, pour présenter, expliquer et faire entendre la musique savante libanaises, ses différents courants et ses principaux compositeurs. Les chroniques musicales. Pour l'Agenda Culturel et pour l'Orient le Jour, elle présente régulièrement des compositeurs libanais et rend compte de leur actualité tant en Europe qu'au Liban.


Pianiste, chef d'orchestre, professeur de philosophie à l'Université libanaise Walid Moussallem a dirigé par intérim du Conservatoire national supérieur de musique de 2014 à 2018. Féru de solitude, il a profité de la récente phase de confinement pour se consacrer à des lectures philosophiques, littéraires, historiques mais aussi à se pencher sur des partitions de piano et d'orchestre. Docteur en philosophie politique de la Sorbonne, Walid Moussallem a mené en parallèle des études musicales au Conservatoire national de Meudon où il obtient son diplôme d'études supérieures. Ses professeurs sont, entre autres, Billy Eidi, Julien Ridoré et ses maîtres de stages Pascal Roger et Abdel Rahman el-Bacha... Durant son mandat à la tête du Conservatoire, il a revisité et renouvelé le répertoire de l'Orchestre philharmonique du Liban, ouvrant la phalange aux régions du pays et aux ambassades, donnant la part belle au patrimoine musical libanais qu'il a régulièrement fait programmer. Walid Moussallem est un « beethovenien » sans partage, Mais il est également un grand amateur de Granados, des nocturnes de Chopin, des préludes et fugues et des partitas de Bach, des opéras de Wagner. Il estime que les musiciens sont au service de la musique ; mais ils sont aussi au service de ceux qui les écoutent. « La musique est toujours porteuse d'un message de paix, d'amour, de fraternité, dit-il, surtout pour un pays comme le nôtre qui en a tant besoin ».
Born in Beirut, Lebanon, in 1989, Omar Rahbany comes from a rich musical lineage. As part of the third generation of the iconic Rahbani family, Omar was immersed in the world of music, theatre, cinema and dance since a very young age. Born into an artistic household, Ghady Rahbani, Omar's father, is a composer, playwright and lyricist, whilst his mother, Danielle Rahbani, is a dancer. On his behalf, he first studied piano and composition with Hagop Arslanian, a tutor who taught the second and third Rahbani generations, as well as the internationally acclaimed French composer Bechara el Khoury. Omar developed a fondness for the German concept of 'Gesamtkunstwerk' (meaning a total work of art), an idea that only stimulated his burgeoning creativity. At the age of nineteen he wrote and composed his first musical. His interests widened to include film and choreography. His vision of uniting these various aesthetic elements to form one total work of art became more pronounced after studying photography with, tutor, Gerard Tohme. During this period, he completed two short films. To enhance his experience in the realm of music, Omar moved to Barcelona where he studied with conductor Jordi Mora and later to Munich to study with Conductor and musicologist Christopher Schlüren. PASSPORT, his latest record is a worldly musical album, on which he is the creator and producer. Passport was launched in the Middle East in Beirut, Lebanon (2016) and in the UK, for its international debut, at the Royal Court Theatre (2017). On December 13th 2017, Omar was invited to perform some of PASSPORT's music at the Carnegie Hall. On July 21st, he was appointed to produce the University of Balamand's 30th Anniversary Ceremony and perform with his Orchestra for an audience of over 12.000 spectators. August 6 2019 marks his first participation at the Beiteddine Art Festival. Omar contributed to the 40th memorial ceremony concert of the Beirut port explosion by composing and performing a short piece for the left hand, due to his injury, in memory of the victims.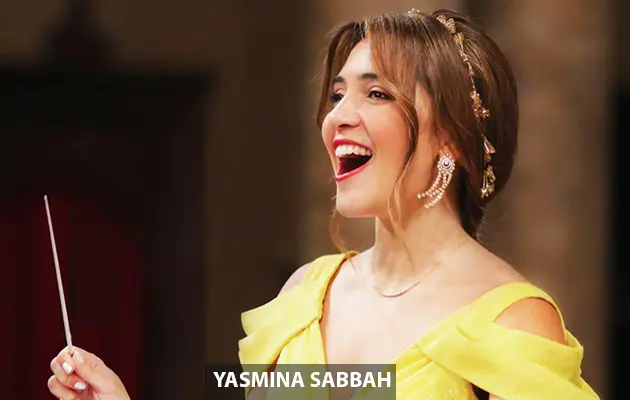 Yasmina Sabbah détient un Master de Musique en Direction de Choeur de la prestigieuse Université de Cambridge, au Royaume-Uni. De retour à Beyrouth, elle est l'une des rares femmes à diriger chœur et orchestre au Liban et dirige actuellement le Chœur de l'USJ, les chœurs d'enfants et des jeunes du Conservatoire, ainsi que l'Orchestre des Jeunesses Musicales du Liban. Elle est également enseignante de musique à l'USJ, l'AUB et à l'LAU. En 2019, elle fait son debut en tant que chef d'orchestre à l'Orchestre Philharmonique du Liban, et en 2020, elle est élue présidente des Jeunesses Musicales du Liban. Jeune, passionnée et motivée, Yasmina Sabbah se donne pour mission de briser les stéréotypes au Liban et de s'affirmer en tant que femme en position d'autorité.
Fadia Tomb El-Hage, une chanteuse libanaise de renommée internationale, est connue pour sa maîtrise du chant occidental classique et contemporain ainsi que des chants médiéval, baroque et oriental, combinant harmonieusement et d'une manière particulièrement innovante les techniques vocales orientale et occidentale. Sa voix et son timbre particuliers ont suscité l'admiration de la presse internationale qui a abondamment décrit son expressivité, sa passion, son charisme et la maîtrise de son art. Après avoir débuté comme soliste dans plusieurs productions des Frères Rahbani (Liban), elle poursuivit ses études de chant classique au Conservatoire Richard-Strauss (Munich), obtenant son diplôme d'état en chant d'opéra avant de se spécialiser dans le chant oratorio. Elle se produisit avec plusieurs orchestres et ensembles, notamment avec la Bremer Philharmoniker, l'Orchestre Symphonique National d'Ukraine, l'ensemble Ars Nova, l'ensemble King Singer's, la Kremerata Baltica, l'Orchestre de Boulogne-Billancourt, le Det Norske Kammerorkester, l'ensemble Sarband, la Eastmann Dance Company (Sidi Larbi Cherkaoui), l'ensemble A Filetta, l'ensemble Het Nederlands Blazers, l'ensemble Fragments et l'ensemble TriOrient, réalisant de nombreux CDs en collaboration avec eux ainsi que des créations mondiales de musique contemporaine. Elle fut acclamée dans de nombreux festivals internationaux et dans de prestigieuses salles de concert, dont les Philharmonies de Berlin, de Cologne, de Paris et de Brême, le Lincoln Center (New York), le Library of Congress Theatre (Washington), le Emerson Majestic Theatre (Boston), le Concertgebouw (Amsterdam), le Théâtre du Châtelet (Paris), le Bozar (Bruxelles), le Théâtre de l'UNESCO (Paris), le Queen Elizabeth Hall (London) et le Stockholm Museum. Fadia El-Hage a à son actif plus de 500 concerts à travers le monde. Au Liban, elle a participé à plusieurs éditions du Festival International de Baalbeck (1998, 2000, 2005, 2013, 2015), Festival de Beiteddine (2001) et Festival Al-Bustan (2002).
More